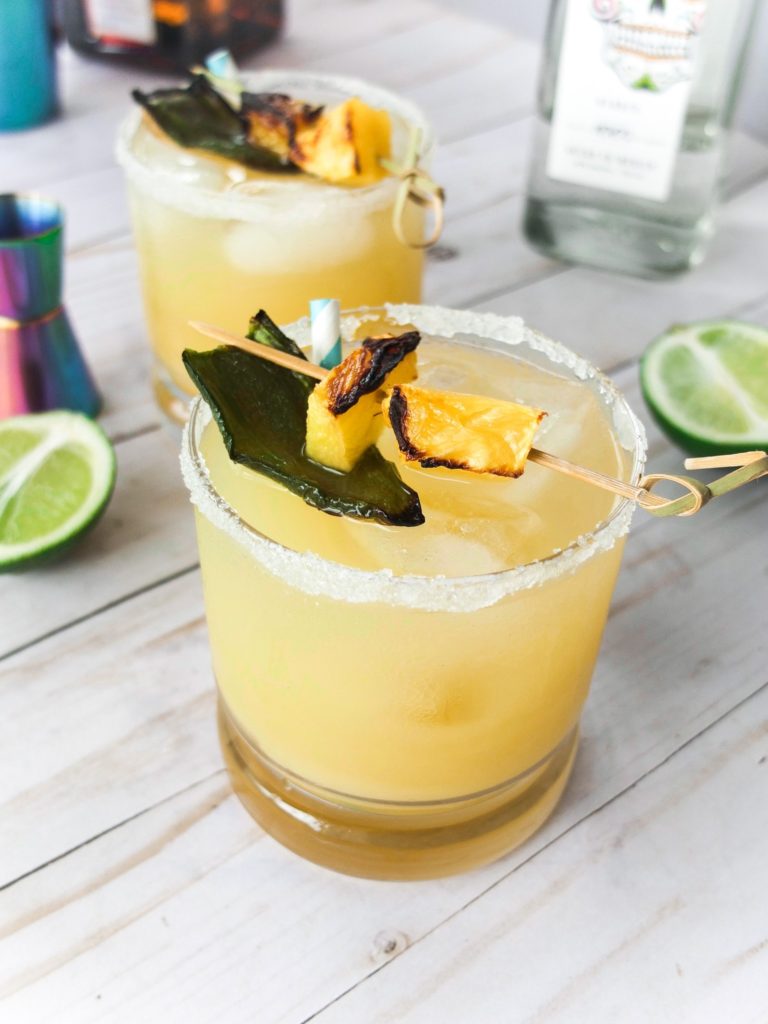 Carred Jalapeño Pineapple Margarita
We have much to choose from, like our hand selected Cask Barrels of Tequila, as well as our other well known tequila selections.
This serves 1 drink
This spicy Charred Jalapeño Pineapple Margarita is one sweet, smoky, and spicy cocktail. Using roasted to a char jalapenos muddled into pineapple juice and tequila, it makes for one tasty drink.
You'll need
1

 

Medium Jalapeño

2.5

 

ounces

 

Pineapple Juice

1.5

 

ounces

 

Silver Tequila

0.5

 

ounce

 

Lime Juice

0.5

 

ounce

 

Cointreau

 

or any orange-flavoured liqueur

0/25

 

ounce

 

Agave or Simple Syrup
Rinse a highball glass with the mezcal, coating the inside of the glass with a thin layer and dumping out whatever doesn't stick.
Add the tequila, syrup and lemon juice to a shaker with ice, and shake until chilled.
Pour into the prepared glass, and add 2 dashes of the bitters.
Garnish with a lemon peel.
Char Jalapeño
Turn your oven on Broil*.

Take your jalapeño and remove the stem. Cut it in half and remove the seeds and membrane. Add skin side up to a Broiler Safe pan. Let broil for 5 minutes or until skin is black and peeling away. Flip jalapeño over and let broil for another 5 minutes. Remove from oven, remove from pan to let cool to working temperature.
Cocktail
Into a shaker add in one of the charred jalapeño halves, lime juice, and agave. Muddle together until well combined and fragrant. Add into the shake pineapple juice, tequila, cointreau, and ice to the fill line. Shake for 15 shakes. Strain into a salted rimmed rocks glass filled with ice.
Recipe Notes
*You may also grill your jalapeños. Add to hottest spot on grill and watch them carefully as they will char up quick.
Heat Level:
I like to use one of the halves of jalapeno for each cocktail. It gives a medium to medium high heat, depending on how large & how spicy your pepper is. If you feel this would be too spicy for you, you can use less jalapeño. If you're someone who wants A LOT of spice, use both jalapeno halves.